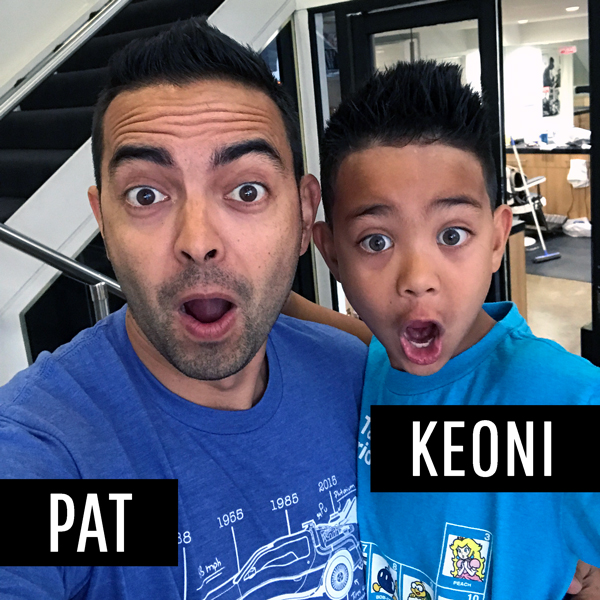 What happens when you mix entrepreneurship with a father and son in a giant vat of fun? You get All of Your Beeswax! A podcast and blog that's all about curious conversations related to business, life and learning.
Hi, I'm Pat (the dad), and along side my 7-year old son, Keoni, our goal is to help you start conversations about helping others, overcoming challenges, and learning to think like a kid again.
Kids, we hope you learn something that you can use to build a business of your own, and even challenge your parents with!
To the parents, we hope you'll be able to start conversations with your kids to help them think about the principles of entrepreneurship that can better prepare them for life.
About Pat (aka. The Old One)
I love to help and inspire people, but I also love to have fun, too! I love the beach, playing golf, speaking on stage and anything that involves getting to know people better.
As a successful serial entrepreneur and parent who has generated over $5,000,000 in earnings online, I'm excited to be able to combine my love for business with my even greater passion of being a father and focusing on education. My award-winning podcast, The Smart Passive Income Podcast, has over 40 million downloads and features some of the world's leading minds in the business and entrepreneurship space.
My book, Will It Fly: How to Test Your Next Business Idea so You Don't Waste Your Time and Money , hit the Wall Street Journal Bestseller list, but more importantly continues to help new business owners all over the world validate new businesses ideas so they can move forward and make decisions with confidence.
I'm also an advisor for several SaaS companies, including Leadpages, ConvertKit, Teachable and SamCart. Additionally, I'm on the advisory board for Pencils of Promise, a non-profit, for purpose organization that helps build schools in third-world countries around the world.
Now that my kids are in school, with the platforms and network I've built, I'm beginning to focus a lot of my time and energy into helping to better our kids for the future. I hope to be a pioneer in injecting entrepreneurial education into school curriculum and I look forward to seeing the day when that becomes the norm.
About Keoni (aka. The Young One)
Keoni is a curious ball of energy who comes home every day from school with something new and exciting to share. He loves to read, play sports like golf and basketball, and he's also a very good eater – he'll try anything!
He also loves Minecraft and other video games, too.
In the first grade, he was a judge in a "Shark Tank-Like" competition at his school, and learned about what it was like to pitch products and compliment people on their ideas.
In second grade, he created a fundraiser to help the hurricane victims of Port Aransas, TX by creating a "mask creation station" outside his home that raised $180! Then, at school, they decided to make the station a part of a school-wide fundraiser, and his masks were able to raise another $300!
Why This Podcast and Blog Exist
One day, Keoni came home from school with a great business idea. Being an entrepreneur, I became very curious about this and started to ask a lot of questions to help him explore the idea and learn even more about it.
That one-hour conversation became one of the most fun conversations I've ever had with anyone, so I decided to ask Keoni if he wanted to make it a tradition to record our after school conversations about business and share them as a podcast.
He agreed!
And thus, All of Your Beeswax was born!
We hope you enjoy our podcast and blog, and if you're reading this, we thank you so much for your support.
Please subscribe to the podcast, and more than anything, use our content here as a starting point for discussions between you and your family members.
We appreciate you!
Pat and Keoni